Sunday is the day for us to experience the joy and the beauty of the myth, art, and imagination which has enriched our history, given purpose to our daily activity and shaped our evolution as a Christian community.  That is what I experienced in the worship service this past Sunday at the College Mennonite Church, Goshen, Indiana.
The service focused on the pastor's sermon text found in  Micah 4:1-5:  I condense it here, but you are advised to click on the link and to read and ponder the whole of it in simple English. I condense it here in the next two paragraphs:  
In the last days the mountain of the Lord's temple will be established  and peoples will stream to it.  Many nations will say, "Come to the mountain of the Lord. God will teach us his ways so that we may walk in his paths."  The Lord will judge between many peoples and will settle disputes for strong nations far and wide.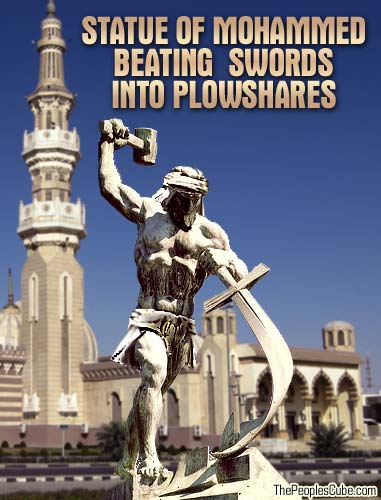 They will beat their swords into plowshares  and their spears into pruning hooks. Nation will not take up sword against nation,  nor will they train for war anymore.  Everyone will sit under their own vine and under their own fig tree, and no one will make them afraid. We will walk in the name of our God for ever and ever.
Micah's grand vision was exposited by the pastor, and supported by prayers and songs, and a fit story for the children.  Our sending song was number 54 from Sing the Journey, click on link and hear it:
Christ, be our light
Shine in our hearts.
Shine through the darkness.
Christ, be our light
Shine in your church
gathered today.
It's likely that most all of the congregants thrilled to Micah's vision, and the art with which it was presented.  But at least one study group of the church felt some disappointment.  After the service, the Borderlands group met with Gloria Neufeld Redecop, author of "Bad Girls and Boys Go to Hell (or not),  – Engaging Fundamentalist Evangelicalism.
Gloria was raised in an evangelical church that held to such fundamental beliefs as the inspiration of an inerrant and authoritative Bible, the Trinity, the deity of Christ, and salvation by  grace through faith alone. Even more, she was raised with prohibitions and inhibitions.  No one dare drink, dance, engage in immoral activity, or think immoral thoughts,  swear,  say idle words, or do other such things or they would certainly  be  condemned to hell.  One could only be saved by the power of the blood.
Gloria talked to us and we talked to each other about how singing is used to indoctrinate  in fundamentalist evangelicalism, and to instill in us the fear of hell.
To be continued.