Sa
turday night was Goshen College's homecoming musical gala in Sauder Hall.  "Joy" and I had seats in row five from the front.  This is of special interest because "Joy's" nephew is one of the principal conductors.  The total event is beyond my words to describe it.
This past Sunday was the conclusion of Goshen College's homecoming weekend and the  celebration of world communion.  President James Brenneman preached  the sermon.  Pastor Phil Waite introduced him to us as "Jim."   I remembered him as the boy I helped baptize at the Ybor City Mennonite Church in Tampa, Florida.
Jim's sermon was titled "Turning the Tables" and was from a parable by Jesus recorded in Luke 14: 15-24 about a banquet to which many guests had been invited.  When the banquet was prepared banquet master sent his servant to tell those who had been invited, 'Come, for everything is now ready.' But they all began to make excuses and declined the invitation..
So the banquet master told his servants to go out quickly into the streets and alleys of the town and bring in the poor, the crippled, the blind and the lame.'   Sir,' the servant said, 'what you ordered has been done, but there is still room.'
 Then the master told his servant, "Go out to the roads and country lanes and compel them to come in, so that my house will be full.  I tell you, not one of those who were invited will get a taste of my banquet."
J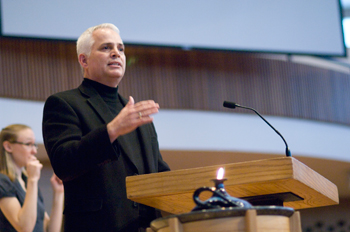 im concluded his sermon by saying that on world communion Sunday everyone should be at the Lord's table.  Then he was moved as he mused about the table in his parent's home on 22nd. St. in Tampa. He recalled that his family never knew who and how many would come home with his father in the evening to join them at their table.
I told Jim that he had preached my sermon, only better.  I concluded many communion sermons by inviting unbelievers to believe and to demonstrate a seeking faith by participating in the communion service.
Yesterday afternoon the Sauder Concert Hall filled for an introduction to former Goshen College President, Shirley Showalter, and her book, Blush. "Joy" and I were there and we enjoyed President Showalter's description of her early life and the way it led to her future as a college president..